Study the social and literary context of divorce
To many, the New Testament's teaching on divorce and remarriage seems both impractical and unfair. The plain meaning of the texts allows for divorce only in cases of adultery or desertion, and forbids remarriage until the death of one's former spouse. But are these proscriptions the final word for Christians today? Are we correctly reading the scriptures that address these issues?
By looking closely at the biblical texts on divorce and remarriage in light of the first-century Jewish and Greco-Roman world, David Instone-Brewer shows that the original audience of the New Testament heard these teachings differently. Through a careful exploration of the background literature of the Old Testament, the ancient Near East, and especially ancient Judaism, David Instone-Brewer constructs a biblical view of divorce and remarriage that is wider in scope than present-day readings.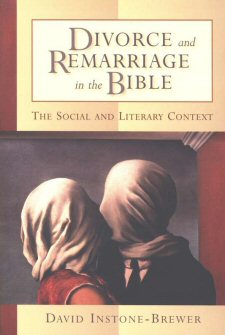 Get Divorce and Remarriage in the Bible today.
Preorder Dr. Instone-Brewer's Biblical Sexual Ethics course
David Instone-Brewer examines how marriage, divorce, polygamy, homosexuality and other topics are addressed in the Bible by looking at both the text of Scripture and the context in which Scripture was written. "Translating from Hebrew or the Greek into English is only half of the job of translation," he says. "You also have to translate the context that it came from."
From ancient Near Eastern marriage laws that were literally written in stone to the sexual practices that were accepted and not accepted in Rome, Dr. Instone-Brewer paints a picture of how Old and New Testament Jewish culture compared to other cultures of the time. He shows how understanding this context illuminates the truth of Scripture and helps us discern what ethics God had for His people in the past and what He has for us today.
See what's on Pre-Pub
Pre-Pub is the place to go when you want to see what's new. You'll find the books you want at prices you can't beat. The sooner you preorder a resource, the better price you'll see.
Check out Pre-Pub right now.