Study the Bible with Dr. Darrell Bock
Dr. Darrell Bock, one of the world's foremost biblical scholars, has distilled his decades of research and teaching experience into this single course on how to study the Bible with Logos. This is the ideal companion to your Logos base package.
Dr. Bock begins by teaching you how to read Scripture in four basic steps. Then he teaches you how to study Scripture by understanding the original context and genre it was written in. He describes the social, literary, and historical elements of context; following that, he covers genres, like narrative and biography, and subgenres, like those in the Psalms. If you want to study the Bible on a deeper level using Logos, and you need a place to start, this course was designed for you.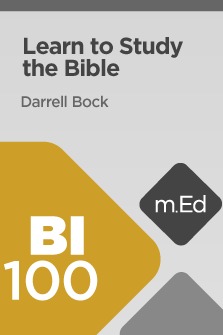 Learn to study the Bible with Dr. Darrell Bock—get this Mobile Ed course today!
Dig into the works of Dr. Craig Bartholomew
Craig G. Bartholomew is the H. Evan Runner Professor of Philosophy at Redeemer University College in Ancaster, Ontario, and the principal of the Paideia Centre for Public Theology. He is the author of Ecclesiastes in the Baker Commentary on the Old Testament Wisdom and Psalms series, coauthor with Michael W. Goheen of Living at the Crossroads, and author of several Lexham Press books including book studies on Job and Luke as well as a practical guide to contextual preaching.
Explore all the works of Dr. Craig Bartholomew.
Study wherever and whenever you want
The free Logos Bible app for Android and iOs is designed and built for deeper Bible study, so you can read, listen, study, and share your insights from your mobile device.  The Logos Bible app gives you access to incredible tools and Bible study content right from your phone or tablet so that you can learn and grow wherever you are.
Get the free Logos Bible App for Android or iOs today.
Get Logos 7 Starter under $200 for the first time ever. Click the banner below. 
There has never been a better offer on Logos 7 Starter online. Experience the power of Logos for just $194.99. Get over 100 resources, plus the features that harness them for powerful Bible study.