Get a crash course on evangelism

Dr. Bobby Conway is the founder of the YouTube sensation, The One Minute Apologist—a video ministry that provides credible answers to curious questions. He's also the founding lead pastor of Life Fellowship Church, a nationally known speaker, and the author of The Fifth Gospel. To continue learning about evangelism from Dr. Bobby Conway, get his Mobile Ed course, Introducing Apologetics.

Now, Faithlife Today readers can get this Mobile Ed course for 20% off!
This exclusive discount is only for Faithlife Today readers. Just use the coupon code FAITHLIFEBLOG to claim your discount! Offer expires 12/31/2017.
Get Bobby Conway's Mobile Ed Course now.
Find out answers to difficult questions about God
Do you ever find yourself stumped by questions about God, questions that sound like this…
If God is good, why is there evil?
How can a loving God send people to hell?
And who made God anyway?
Or maybe you've wrestled with hard-to-answer questions about the Bible, such as…
Aren't there contradictions in the Bible?
How can I trust the Bible if men wrote it?
Isn't the Bible full of myths, like Jonah and the whale?
Leading apologist Bobby Conway will help you discover, Q&A style, answers that are life-changing. And make no mistake—never has the culture and the church been in greater need of understanding who God is and what the Bible has to say to every one of us. Get this book for yourself or a friend who's questioning God.
Get Does God Exist today—on sale for $7.79!
See Archaeology in Action
Explore archaeological digs in Israel by joining distinguished scholars in the field, who will teach you the processes and practices of biblical field archaeology. Learn the tools and techniques used by archaeologists and volunteers to find relics buried for millennia. Discover the passion of those who have invested their lives into uncovering and studying material culture. Watch as they unearth objects for the first time after thousands of years.
In this course, filmed on site in Israel, you'll experience the process of a dig and hear directly from archaeologists. Their findings shed light on what life was like in the first century world of Jesus and the apostles.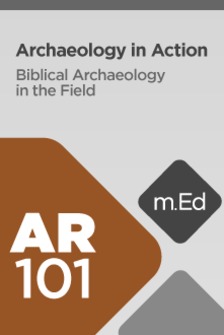 Right now, this course is 40% off! Pick it up before the discount ends!
Get Archaeology in Action: Biblical Archaeology in the Field today!
Save up to 80% on Logos resources
Get limited-time, low prices on Logos 7, books from Baker Publishing, and other top biblical resources.