Dr. Michael Heiser shares insights from the Everyday Bible app (0:10). Scott Lindsey sits down with Jay Sklar to talk about his passion for Leviticus (2:00).
Start reading the Bible daily
The Every Day Bible app makes it easy to explore the entire Bible. Each day you'll find a passage from the Old Testament, a passage from the New Testament, and a short devotional that helps you connect the two. You'll also find beautiful Bible Screen art that helps you visualize a verse or passage you just read.
Download the Every Day Bible app today. Get it for Android or get it for iOS. Or, you can check out Mike Heiser's works on Logos.
Learn more about Leviticus with Dr. Sklar
In this course, Book Study: Leviticus (OT308), Dr. Jay Sklar walks you through the challenging details of the book of Leviticus. In this section of Scripture that often feels detached and foreign to the Christian life, Dr. Sklar will act as a helpful guide as you tackle this book. Focusing on the offerings, the laws, and the more perplexing areas of Leviticus, this study helps you understand the implications of the text for Israel and for Christians today.Dr. Jay Sklar's course on Leviticus is almost done–and you can be one of the first people to ever take it! Pre-order Dr. Sklar's Mobile Ed course on Leviticus today to reserve your copy.
Right now, this course is 37% off!
This course is on Pre-pub, which means that it's still being developed. If you pre-order it today, you'll get steep discounts on this unreleased content. Be one of the first to take this course! Place your pre-order to reserve your copy today, and we'll let you know as soon as it's ready!
Pre-order Dr. Sklar's Mobile Ed course OT 308: Book Study on Leviticus.
Study Scripture with more than 60 Bible scholars
Build your study of the Bible from the ground up with the NIV Zondervan Study Bible. Led by D.A. Carson, more than 60 contributors (including Dr. Jay Sklar) have crafted all-new study notes, genre and book introductions, and in-depth articles to help you understand how biblical writers unfold the story Of God's great plan of salvation. Contributors such as Tim Keller, Douglas Moo, Andreas J. Köstenberger, and Kevin DeYoung help readers understand Scripture's story with 28 theologically focused articles that synthesize the Bible's message on topics such as centrality of Jesus, the return of Christ, mission, and sin. Featuring comprehensive genre and book introductions, more than 20,000 notes, hundreds of brilliant photographs, 90 full-color maps, and 60 charts, the NIV Zondervan Study Bible provides everything you need to experience and learn God's Word.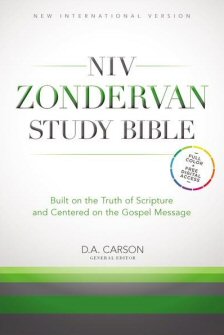 Get NIV Zondervan Study Bible today.
Save 50% on the best commentaries
Save on the most popular commentaries on Bestcommentaries.com.