Dr. Nicholas Perrin provides an overview to the Gospel of Thomas (0:10), and Faithlife's animation team provides a stunning animation of Col. 1:15–16 (4:00).
Explore the Gospel of Thomas with Dr. Perrin
Thomas: The Other Gospel tells the story of the gospel from its discovery to its current reception among academics and in more popular circles. It provides a clear, comprehensive, non-technical guide through the scholarly maze of issues surrounding the Coptic text.
N.T. Wright calls it, "A brilliant reconstruction of how the document came to be written, what it meant then, and what it means now."
Get Thomas: The Other Gospel today.
Study the Kingdom of God with Dr. Perrin
Explore the kingdom through the parables of Jesus and learn what the kingdom is, who the kingdom belongs to, and how one lives in the kingdom. Discover that the kingdom is what God does, and that He just might use you in his work. This kingdom is to be characterized by sharing, by working together, by forgiving each other, and by being empowered by the Holy Spirit. Most importantly, it is a kingdom centered on Jesus the Messiah and on worship—and this is just a foretaste of what's going to happen when the kingdom comes in its fullness. Learn all this and more in this Mobile Ed course with Dr. Nicholas Perrin, the speaker in today's video.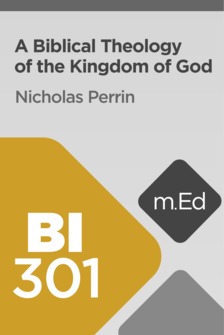 Buy A Biblical Theology of the Kingdom of God with Dr. Perrin.
Get this month's free book
Using the popular four-views format, Four Views on the Warning Passages in Hebrews explores the meaning of the five warning passages in the book of Hebrews to both the original readers and us today. Each of the four New Testament scholars present and defend their view and critique the view of their interlocutors. This unique volume will help readers better understand some of the most difficult passages in all of Scripture.