Dr. Mark Futato talks about how we can correctly interpret the book of Psalms (0:15), and Todd Bishop shows how to gain biblical insight using the Cultural Concepts tool in Logos (3:55).
Get Dr. Futato's Mobile Ed courses on Psalms
Learn how to study and preach the Psalms with these courses by Dr. Mark Futato. Dr. Futato begins by painting the big picture of the Psalms—how they're organized, what their genres and main messages are, and how they point to Christ. You'll learn how to examine the text piece by piece, using the same interpretive methods Dr. Futato uses in his own research and preparation for preaching. He then demonstrates how to transform what you learn in your study into a well-crafted sermon rooted in scholarship and communicated clearly.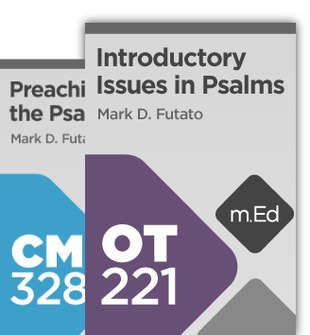 Get the Understanding the Psalms Bundle.
Study Psalms with Dr. Futato's book
Psalms has often been thought of as a book of praise, but it also contains mourning, bewilderment, and confusion. In fact, the amount of "negative psalms" outnumbers the psalms of praise. In Cornerstone Biblical Commentary: The Book of Psalms, The Book of Proverbs, Futato shows us the difference between the negative aspects and the psalms of praise and that praise is part of the concluding phrase in the book. Not only that, but praise is a large part of the negative psalms.
Tremper Longman III calls it "a treasure house of insight into the biblical text. Written by some of the best scholars working today, it is an essential tool for pastors, students, church leaders, and lay people who want to understand the text and how it relates to our lives today. Like the NLT text it uses as its base, this commentary series is extremely readable."
Get Cornerstone Biblical Commentary: The Book of Psalms, The Book of Proverbs today!
Free book: Serving God in a Migrant Crisis

New crises strike the world every day, from massive migrant shifts across Africa and Europe to poverty, war, and strife. As Christians, we must engage, but too often we don't know how to think about crises and what action to take.
This month's free ebook, Serving God in a Migrant Crisis, will guide you through these critical issues from a Christian worldview. And add two more books for under $8.