Dr. Michael Licona talks about the struggles with doubting your faith (:10), and Todd Bishop offers a Logos Pro tip on using the LXX Translation Ring (4:10).
Study apologetics with Dr. Licona and others
Discover various approaches to sharing your faith with nonbelievers. Explore and analyze current physicalist/naturalist views on human nature, creativity, and consciousness. Observe a futuristic debate between Christianity's Paul and Islam's Muhammad as they address the validity of their religious doctrines, cite primary sources, and argue over one of the biggest defining aspects of their religions: the validity of Jesus' resurrection. Learn about present strategies to defend the belief in moral absolutes while recognizing moral relativism's logical inconsistencies, growth in the past decades, and political and social influences.
In a solid, scriptural, and non-technical way, the Baker Apologetics Collection brings beginning and experienced apologist's insight on today's philosophical issues, while firmly defending the Christian faith.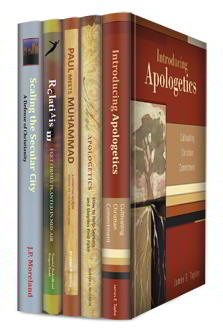 Add the Baker Apologetics Collection to your library today!
Start exploring the Septuagint Translation Section
See the Septuagint translation of biblical words in your Bible Word Study tool, so you can explore how the word was used in an older translation.
Get Logos 7 to start using this feature.
Save big on resources to help you dig deeper into Bible study
Now is your time to save big on resources that open up Scripture, help you dig deeper into your studies, and save you time by putting everything at your fingertips. Check out all the deals in the August Monthly Sale!