Dr. David Lamb discusses some insights from his Mobile Ed courses (0:10), and Dr. Steve Runge digs into the book of Proverbs to teach about rebuking our friends (3:10).
Study the kings of Israel with Dr. Lamb
Learn what Samuel and Kings say through their own words and through the lens of their original contexts, and discover how they shape discipleship today. This two-course Kings of Israel bundle will not only enrich your understanding of the Bible's historical books, it will also improve your exegetical skills. From the birth of Samuel to the exiles of Israel and Judah, these courses explore the textual and theological issues in these historical books.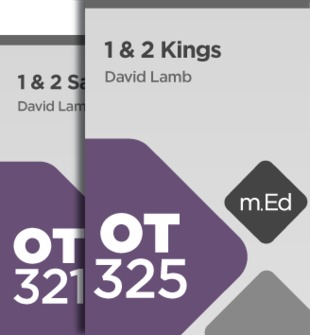 Get the Kings of Israel bundle today.
See the Old Testament in high definition
The Old Testament writers used a variety of literary and grammatical devices to guide their audience. Some of these devices function to attract attention to important information, while others served to push less important information into the background. Some were used simply to grab your attention, alerting you that something important or surprising was about to happen. The ability to identify what these devices are and where they occur in the text will be a valuable help for your Bible study. Until recently, these kinds of tools have only been accessible to those who have invested years and years of study in the Hebrew language and linguistics.
In the Lexham Discourse Hebrew Old Testament Datasets, the text is marked up with visual representations for a variety of discourse devices. Hovering over any of the devices gives you a pop-up window with a concise definition, allowing you to stay right in the text. Right clicking on the device gives you the option to jump to the glossary for a definition, explanation, illustrations, and questions to ask yourself to understand why the author used that specific device. Since all of these devices are tagged, you can even search for the various devices across the entire Old Testament or in a specific corpus of Scripture.
Order the Lexham Discourse Hebrew Old Testament Datasets today.
Watch Dr. Runge's insights come to life
Experience Steve Runge's groundbreaking High Definition Commentary on Philippians as an animated video, making his discourse-based study of the epistle more accessible than ever. The stunning visuals guide you through the book, while the narrator examines linguistic and literary clues in the text. Perfect for small groups or individual study, An Animated Guide to Philippians helps you understand and apply this important epistle.

Study Philippians with Dr. Runge today—only $19.99.
Save on Wipf & Stock Resources This Month Only
Save on resources like God with Us by D.A. Carson and Divine Presence amid Violence by Walter Brueggemann during this month's Publisher Spotlight—but only through November 30.