Dr. Andy Naselli gives a tip for careful interpretation (0:10), and Michael Heiser discusses the philosophy of Bible translations (1:45).
Learn to read the New Testament with Dr. Naselli
Introducing the New Testament (abridged edition) is an established major textbook that brings the best of New Testament scholarship to the Church and makes it accessible to the average reader.
This book focuses on historical questions dealing with authorship, date, sources, purpose, and destination of the New Testament books. By focusing on the essentials, the authors ensure that each book is accurately understood within its historical settings. For each New Testament document, the authors also provide a summary of that book's content and discuss the book's theological contribution to the overall canon.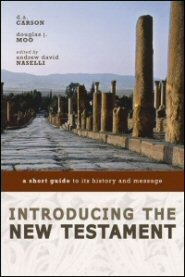 Get Introducing the New Testament today.
Add Bible translations to your Logos library
Over 200 popular Bible translations are available in Logos Bible Software. Dr. Michael Heiser recommends Christians use at least one "formal equivalent translation" (such as KJV, NKJV, NASB, or ESV) and one "dynamic equivalent translation" (such as NIV).
And now, every English translation in Logos is just $9.99! Browse all translations here.

Get Gospel Deeps free in March
While pastoring for the past fifteen years, Jared Wilson has become known in contemporary evangelicalism for his passionate, gospel-centered writing and teaching. Following Wilson's well-received publication of Gospel Wakefulness, he writes Gospel Deeps as a "next step" to establishing the need for astonishment, which begins by looking at the astonishing things God has done in and through Christ.
Plus, get two more books for just $3.99 each Who is Jesus and Behold the King of Glory.
Get all three books—a value of almost $55—for less than $8!