Dr. William Klein talks about his work on New Testament genre (0:10), and Dr. Daniel Zink talks about God's ultimate purpose for our lives (2:45).
Interpret the New Testament with Dr. William Klein
The Bible is a complex mix of literary genres that spans several centuries. Understanding how to properly read and interpret it is challenging. In these courses, some of the brightest minds in biblical interpretation will teach you their methods. You'll learn how to understand Scripture in its original historical and literary contexts and grasp the messages the Old Testament and New Testament authors intended.
Get Dr. Klein's Interpreting New Testament Genres Mobile Ed Course today.
Start Growing in Christ today
In this book, J.I. Packer outlines the differences between faith and belief to help you grow in Christ. While "belief" suggests bare opinion, "faith," whether in a car, a patent medicine, a protégé, a doctor, or a marriage partner, is a matter of treating the person or thing as trustworthy and committing yourself accordingly. The same is true of faith in God, and in a more far-reaching way.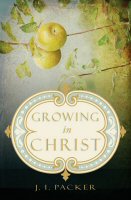 Add Growing in Christ to your library.
Get A Theology of Matthew—free through April 
A Theology of Matthew explores the identity of Jesus and the call to worship him by surveying Matthew's theological themes and how they interconnect with the rest of the Bible. Quarles focuses on Matthew's portrait of Jesus as the Savior of sinners, the founder of a new Israel, and the incarnation of the creator.