A Logos Pro tip on detailed morphological searches (0:12), and an animated journey through Isaiah 11:1–9 (2:55).
Logos Morph Search
Search for original-language words by their lemma, morphological form, or surface form, and narrow your search according to your needs.
Choose the Logos 8 base package that's right for you.
Discover Jesus in Isaiah
The servant in Isaiah 52 and 53 is one of the most intriguing figures in the prophetic Scriptures. The questions are many, the interpretations are diverse, and the answers always seem to be different. Some have looked to this text in search of Jesus, others to reclaim Israel's role in the world, and some to find a historical explanation for this prophetic text that seems to have no precedence.
Many have stood in awe of the prophecy about the servant in Isaiah 52:13–53:12—either because of its lack of theological precedence in ancient literature or because of the parallels between the servant and the portrayal of Jesus of Nazareth in the Gospels.
However, in the past 30 years, there has been little examination of the servant's possible resurrection in Isaiah 53:10–12. Harry M. Orlinsky and R.N. Whybray's interpretations, in particular, have been cited as disproving the resurrection in Isaiah 53. Despite Orlinsky's and Whybray's interpretations being cited multiple times as evidence against resurrection in Isaiah 53:10–12, participant reference in discourse analysis—a method pioneered since their works were written—suggests otherwise. The Resurrected Servant in Isaiah reevaluates the scholarly consensus about the resurrected servant and proposes a new interpretation.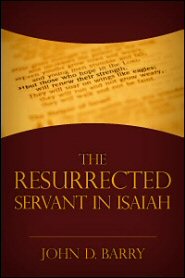 Get The Resurrected Servant in Isaiah today!
Free through June: The Clarity of Scripture
In this short course, John Frame considers what the clarity of Scripture means. He describes its origin and discusses it in light of three of God's attributes: His sovereignty, His authority, and His presence. Dr. Frame also explains how to understand the clarity of Scripture when reading passages in the Bible that do not seem to be clear.
Plus, throughout June you can add two more books for low prices:
That means you can grab all three books––a $200 value––for only $30!