A Bible professor explains how he uses Logos Bible Software (0:10), and Dr. Michael Heiser takes a close look at what it means to be made in the image of God (2:05).
Dive into New Testament exegesis with Dr. Naselli's Mobile Ed course
When people interpret the Bible, even though they may have the best motives in the world, they can still read their ideas into the Bible rather than draw out what the author originally intended to mean. Don't miss the whole point of exegesis. It's to know and worship God.
Dr. Naselli will help you exegete the New Testament texts in a way that spreads a passion for the supremacy of God in all things for the joy of all peoples through Jesus Christ by exploring the concepts of genre, theology, translation, and much more. Exegesis and theology are thrilling because they help you know and worship God, and only God satisfies.
Get Dr. Naselli's course today.
Explore the unseen realm of the Bible
The Unseen Realm presents the fruit of Dr. Heiser's fifteen years of research into what the Bible really says about the unseen world of the supernatural. His goal is to help readers view the biblical text unfiltered by tradition or theological presuppositions. "People shouldn't be protected from the Bible," Dr. Heiser says. But theological systems often do just that, by "explaining away" difficult or troublesome passages of Scripture because their literal meaning doesn't fit into our tidy systems.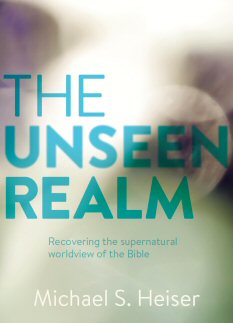 November's free ebook

November's free book is J. I. Packer: An Evangelical Life by Leland Ryken
Over the last sixty years, J. I. Packer has exerted a steady and remarkable influence on evangelicalism. In this biography, well-known scholar Leland Ryken acquaints us with Packer's life, heart, and mind, tracing the outworking of God's sovereign plan through his childhood, intellectual pursuits, and professional life.
Add three more books for just $15 total.
Learn about the life and creative process of C. S. Lewis in Jack: A Life of C. S. Lewis, only $4.99. The book glimpses into Lewis's extraordinary relationships and experiences, and the creative process that produced world-famous works.
Understand the thinking and theology that fueled the work of Francis Schaeffar in Truth with Love, only $4.99. Bryan Follis examines Schaeffer's apologetic argument and the role of reason in his discussions and writings.
Uncover the timeless principles Martyn Lloyd-Jones believed and preached in Martyn Lloyd-Jones by Christopher Catherwood. The book shares the passionate preaching and a resolute commitment to the Bible as God's Word Lloyd-Jones shared with the world, for only $4.99.
Altogether, you can save over $70 on these books, getting all four for just $15.