Dr. Nicholas Perrin discusses why it matters theologically that Jesus was the living temple (:10), and Todd Bishop gives viewers a Logos Pro tip (4:05).
Develop a biblical theology of the kingdom of God
Explore the kingdom through the parables of Jesus and learn what the kingdom is, who the kingdom belongs to, and how one lives in the kingdom. Discover that the kingdom is what God does and that he just might use you in his work. This kingdom is to be characterized by sharing, by working together, by forgiving each other, and by being empowered by the Holy Spirit. Most importantly, it is a kingdom centered on Jesus the Messiah and on worship—and this is just a foretaste of what's going to happen when the kingdom comes in its fullness.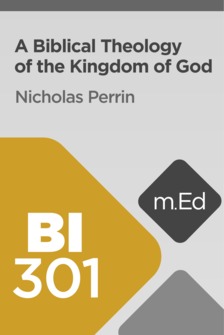 Get A Biblical Theology of the Kingdom of God.
Explore the Evangelical Exegetical Commentary
The editor of the EEC says, "If you are committed as a Christian student or pastor or leader to communicate the Word of God to other people, you simply will not find, in my opinion, anything that's going to be as valuable to you in the study of God's Word as the Evangelical Exegetical Commentary."
Learn more about this prestigious commentary series.
Don't miss November's free ebook

November's free book is J. I. Packer: An Evangelical Life by Leland Ryken
Over the last sixty years, J. I. Packer has exerted a steady and remarkable influence on evangelicalism. In this biography, well-known scholar Leland Ryken acquaints us with Packer's life, heart, and mind, tracing the outworking of God's sovereign plan through his childhood, intellectual pursuits, and professional life.
Add three more books for just $15 total.
Learn about the life and creative process of C. S. Lewis in Jack: A Life of C. S. Lewis, only $4.99. The book gives readers a glimpse into Lewis' extraordinary relationships and experiences and the creative process that produced his world-famous works.
Understand the thinking and theology that fueled the work of Francis Schaeffar in Truth with Love, only $4.99. Bryan Follis examines Schaeffer's apologetic argument and the role of reason in his discussions and writings.
Uncover the timeless principles Martyn Lloyd-Jones believed and preached in Martyn Lloyd-Jones by Christopher Catherwood. The book shares the passionate preaching and a resolute commitment to the Bible as God's Word Lloyd-Jones shared with the world, for only $4.99.
All together, you can save over $70 on these books, getting all four for just $15.