An interview with Sean Mcdowell on the topic of homosexuality (:10), and a visit to the Faithlife Language Lab with Dr. Steve Runge on Greek prepositions (7:35).
Learn how to talk about homosexuality from Sean McDowell
Get equipped to respond truthfully and graciously to the topic of homosexuality and to those who are a part of the LGBT community. Sean McDowell examines some of the preliminary issues, such as whether or not homosexuality is a gospel issue, whether or not homosexuality is the "unforgiveable sin," and why many people have adopted the revisionist view of homosexuality. Gain profound insight and practical advice while applying biblical evidence to common objections to pertinent passages in Genesis, Romans, and 1 Corinthians.



Start learning how to address homosexuality today.
Approach God's design for marriage thoughtfully
Sean McDowell and John Stonestreet believe a thoughtful approach to God's design for marriage is the answer to both questions. The key is not a contentious attitude toward those who believe in same-sex marriage, but a winsome perspective that is faithful to Christ, committed to truth, and shaped by a love for God and others. Christians need to know that because Christ has risen, all hope is not lost. They are still called to engage culture— even if they view other people's beliefs as wrong, illegal, or intolerant.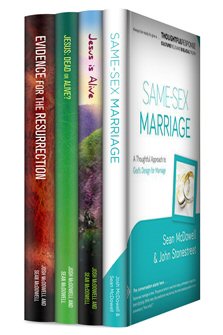 Get Same-Sex Marriage: A Thoughtful Approach to God's Design for Marriage in the Select Works of Sean and Josh McDowell.
Interested in studying the original Greek?
The history of the Greek text of the New Testament reads like an adventure novel. From the original composition of these texts to the present day, they have been perpetually copied, heavily utilized, beautifully illustrated, secretly hidden, burned, buried, translated, printed, and analyzed.
Studying the original language of the New Testament can bring deeper meaning to the words that we read today. We've developed a guide to help you learn about critical texts, codices, manuscripts, and other Greek texts, and which might be most suited for your study. Study the original Greek just like Dr. Runge for more profound insights into the Word of God.
Check out the guide for more information.
Don't miss this month's free ebook

The Bible Handbook of Difficult Verses
Josh and Sean McDowell, masters of practical Christian apologetics, team up in this trustworthy resource that can help you understand and gain assurance about difficult Bible verses and passages.
This is a resource you can turn to for help in everyday life—one that will help you gain confidence in all of Scripture. The Bible Handbook of Difficult Verses is excellent for individuals, churches, and church leaders, as well as personal and pastoral libraries.