John Walton explains the interaction between God's world and God's Word (0:10), followed by an animated video highlighting why the cultural context of Scripture matters to modern readers (5:10).
Study the culture and context of the Old Testament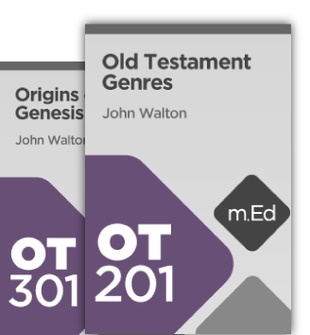 To learn more about the ancient Hebrew culture and context of the Old Testament, check out Dr. John Walton's Mobile Ed courses. These exclusive video lectures offer the unique insights of a prominent Old Testament scholar, exploring the origins of Genesis and Old Testament genres.

Get John Walton's Mobile Ed courses now.
Visualize Scripture with Bible Screen
To watch more captivating motion graphics Faithlife designers, pick up a copy of Bible Screen, and start filling your home, church, or business with compelling, Bible-centered motion graphics. Bible Screen turns any screen into an uplifting work of art.

Resources from January's Publisher Spotlight
Explore resources from Wipf and Stock like Hermeneutics, Authority, and Canon by D. A. Carson and John D. Woodbridge or The Living Legacy: The Soul in Paraphrase, the Heart in Pilgrimage, by Ben Witherington III and Julie Noelle Hare.
See more resources from this month's Publisher Spotlight.