Dr. Michael Licona talks about the struggles with doubting your faith (:10), and Todd Bishop offers a Logos Pro tip on using the LXX Translation Ring (4:10).
Study apologetics with Dr. Licona and others
Discover various approaches to sharing your faith with nonbelievers. Explore and analyze current physicalist/naturalist views on human nature, creativity, and consciousness. Observe a futuristic debate between Christianity's St. Paul and Islam's Muhammad as they address the validity of their religious doctrines, cite primary sources, and argue over one of the biggest defining aspects of their religions: the validity of Jesus' resurrection. Learn about present strategies to defend the belief in moral absolutes while recognizing moral relativism's logical inconsistencies, growth in the past decades, and political and social influences.
In a solid, scriptural, and non-technical way, the Baker Apologetics Collection brings beginning and experienced apologist insight on today's philosophical issues, while firmly defending the Christian faith.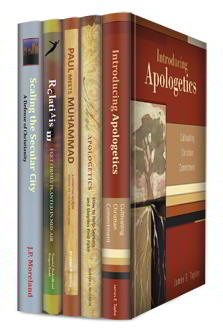 Add the Baker Apologetics Collection to your library today!
Save up to 43% off this month only
Through April 30, save on featured author Ben Witherington III. Dr. Witherington is considered one of the top evangelical scholars of our day. He has published over 40 books, including his newest release Who God Is. Save on many of Dr. Witherington's resources and so much more. Check out just a sample:
There's plenty more to discover, so check out the entire sale, and save up to 43%.