Engage the culture without losing the gospel
As the culture changes all around us, it is no longer possible to pretend that we are a Moral Majority. That may be bad news for America, but it can be good news for the church. What's needed now, in shifting times, is neither a doubling-down on the status quo nor a pullback into isolation. Instead, we need a church that speaks to social and political issues with a bigger vision in mind: that of the gospel of Jesus Christ. As Christianity seems increasingly strange, and even subversive, to our culture, we have the opportunity to reclaim the freakishness of the gospel, which is what gives it its power in the first place.
We seek the kingdom of God, before everything else. We connect that kingdom agenda to the culture around us, both by speaking it to the world and by showing it in our churches. As we do so, we remember our mission to oppose demons, not to demonize opponents. As we advocate for human dignity, for religious liberty, for family stability, let's do so as those with a prophetic word that turns everything upside down.
Get Onward today!
Keep learning how language works with Dr. Runge
Our understanding of the Greek New Testament is based almost entirely on English translations, but how would our understanding of the Greek text change if we read it for what it is—as Greek? With the Lexham Discourse Greek New Testament, we can now get behind the words of the New Testament writers and discover the particular linguistic tasks that inform translation and interpretation. The Lexham Discourse Greek New Testament identifies discourse markers and performs complex discourse analysis of the entire New Testament quickly, easily, and accurately, which makes it one of the most advanced tools for studying the Greek text of the New Testament.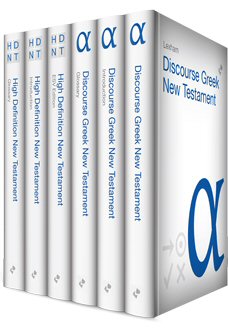 Get Lexham Discourse Greek New Testament Bundle today!

Serious scholarship for serious students
Designed both for serious students and for general readers of the Bible, the PNTC volumes seek above all to make clear the meaning of the text of Scripture as we have it. The scholars writing these volumes interact with the most important, informed contemporary debate yet avoid undue technical detail. The result is a blend of rigorous exegesis and exposition, scholarship and pastoral sensitivity, with an eye alert both to biblical theology and to the contemporary relevance of the Bible.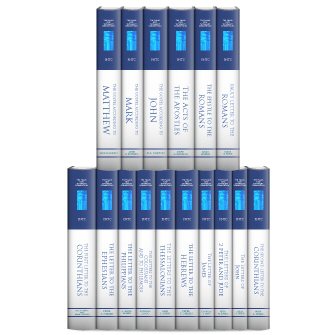 Get the Pillar New Testament Commentary series today!
Save 30% on Mobile Ed bundles—this month only
Get Mobile Ed bundles at an unbeatable price, all November long.