Get a crash course on evangelism

Dr. Bobby Conway is the founder of the YouTube sensation, The One Minute Apologist—a video ministry that provides credible answers to curious questions. He's also the founding lead pastor of Life Fellowship Church, a nationally known speaker, and the author of The Fifth Gospel. To continue learning about evangelism from Dr. Bobby Conway, get his Mobile Ed course, Introducing Evangelism.
Get Introducing Evangelism now.
Learn the value of Greek discourse devices
The Lexham Discourse Handbook series guides readers through the Greek text, integrating insights from the Lexham Discourse Greek New Testament and Discourse Grammar of the Greek New Testament. These volumes show how various discourse devices each contribute to the overall flow and structure of the books by providing a unifying analysis of each text.
Dr. Steve Runge's approach complements traditional approaches by helping readers understand the exegetical implications of the writer's choices. The handbooks offer sustained commentary on the text, but do not engage issues like background, setting, and audience that preoccupy traditional commentaries. Instead, Runge applies his years of research in discourse grammar to a running exegesis of the Greek. If you have been disappointed by the lack of discussion about structure, discourse flow, and rhetorical strategies in modern commentaries, then the Lexham Discourse Handbooks are for you.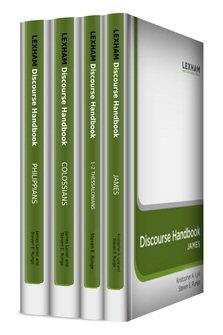 Preorder the Lexham Discourse Handbooks today!
See Archaeology in Action
Explore archaeological digs in Israel by joining distinguished scholars in the field, who will teach you the processes and practices of biblical field archaeology. Learn the tools and techniques used by archaeologists and volunteers to find relics buried for millennia. Discover the passion of those who have invested their lives into uncovering and studying material culture. Watch as they unearth objects for the first time after thousands of years.
In this course, filmed on site in Israel, you'll experience the process of a dig and hear directly from archaeologists. Their findings shed light on what life was like in the first century world of Jesus and the apostles.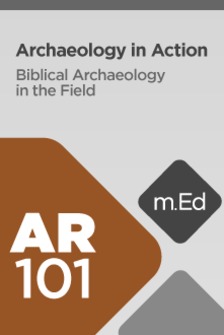 Preorder Archaeology in Action: Biblical Archaeology in the Field today!
Discover the world of Jesus
Join distinguished professor Dr. Craig A. Evans on a journey to some of the most significant New Testament archaeological sites. Filmed on-site in Israel's Galilee region, Dead Sea region, and Jerusalem, this course will give you insight into first-century socioeconomic life and will help you grasp the historical and biblical context of Jesus' ministry.
As the course takes you through cities and other locations around the Sea of Galilee, you'll learn where Jesus and his disciples walked and lived, including Capernaum, the headquarters of Jesus' Galilean ministry. Discover how the Qumran Dead Sea Scrolls reveal how deeply rooted in the Old Testament the early Christian movement was, and hear how these texts have been preserved for future generations. Explore burial practices and evidence of crucifixion in the first century in Jerusalem.