Answer objections to the gospels with Dr. Licona
The question of the historicity of Jesus' resurrection has been repeatedly probed, investigated, and debated. And the results have varied widely. Perhaps some now regard this issue as the burned-over district of New Testament scholarship. Could there be any new and promising approach to this problem?
Yes, answers Michael Licona. He convincingly points us to a significant deficiency in approaching this question: our historiographical orientation and practice. Licona opens this study with an extensive consideration of historiography and the particular problem of investigating claims of miracles. This alone is a valuable contribution.
But then Licona carefully applies his principles and methods to the question of Jesus' resurrection. In addition to determining and working from the most reliable sources and bedrock historical evidence, he critically weighs other prominent hypotheses. His own argument is a challenging and closely argued case for the historicity of the resurrection of Jesus, the Christ. Any future approaches to dealing with this "prize puzzle" of New Testament study will need to be routed through The Resurrection of Jesus.
Get The Resurrection of Jesus: A Historiographical Approach by Dr. Licona today.
Learn the value of Greek discourse devices
The Discourse Greek New Testament revolutionized how we read the New Testament by applying discourse markers to the Greek text. Now, Steve Runge's Discourse Grammar of the Greek New Testament: A Practical Introduction for Teaching and Exegesis offers readers a book-length treatment of discourse linguistics and how it can be applied to New Testament exegesis and interpretation.
In Discourse Grammar of the Greek New Testament, Steve Runge introduces a function-based approach to language, and seeks to describe grammatical conventions based upon the discourse functions they accomplish. This volume does not reinvent previous grammars or supplant previous work on the New Testament. Instead, Runge reviews, clarifies, and provides a unified description of each of the discourse features. That makes it useful for beginning Greek students, pastors, and teachers, as well as for advanced New Testament scholars looking for a volume which synthesizes the varied sub-disciplines of New Testament discourse analysis.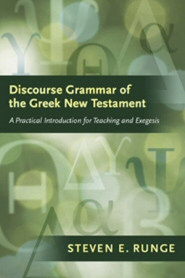 Add the Discourse Grammar of the Greek New Testament to your library!
Confused about where to start with Greek texts? Use this guide to see which kinds of Greek resources fit best with your study.
Join the legacy—study the Bible alongside other thinkers. Let Logos 7 Basic free!
Logos 7 Basic puts insights from across all of Scripture—and a collection of key biblical resources—right at your fingertips. With this free version of Logos Bible Software, you'll do basic Bible study tasks and see for yourself how Logos can help you discover, understand, and share more of the biblical insights you crave. Customize a Bible reading plan, take notes and highlight, consult devotionals and commentaries, and more—all with the help of intuitive, interactive tools.
Start using Logos for free today! Get Logos 7 Basic.
Save up to 80% on Logos resources
Get limited-time, low prices on Logos 7, books from Baker Publishing, and other top biblical resources.