Scholar George Gurthrie discusses how understanding the structure of Hebrews helps us interpret it (0:10), we get a Faithlife Proclaim tip on setting multiple service start times (5:05).
Study Hebrews with Dr. Guthrie
This course is the culmination of over 20 years of research and teaching on the book of Hebrews by Dr. George Guthrie. Dr. Guthrie walks you through the entire text, explaining its complex structure and navigating you through its twists and turns. You'll learn about specific issues the first-century church faced and see how we are still dealing with those issues today. You'll also gain an understanding of the theological foundations laid in Hebrews. Dr. Guthrie draws from his extensive research to provide insight on the priesthood of Jesus and God's covenant promises.
The aim of this course is that by better understanding what the text says about who Jesus is and what He's done for us, you will be encouraged to live faithfully and persevere. As Dr. Guthrie states, "Your perseverance in the Christian faith will be in direct proportion to the clarity with which you see who Jesus is and what He has accomplished on our behalf!"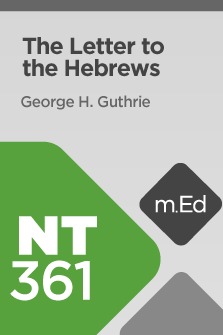 Get Book Study: The Letter to the Hebrews today!
Learn the value of Greek discourse devices
The Lexham Discourse Handbook series guides readers through the Greek text, integrating insights from the Lexham Discourse Greek New Testament and Discourse Grammar of the Greek New Testament. These volumes show how various discourse devices each contribute to the overall flow and structure of the books by providing a unifying analysis of each text.
Dr. Steve Runge's approach complements traditional approaches by helping readers understand the exegetical implications of the writer's choices. The handbooks offer sustained commentary on the text, but do not engage issues like background, setting, and audience that preoccupy traditional commentaries. Instead, Runge applies his years of research in discourse grammar to a running exegesis of the Greek. If you have been disappointed by the lack of discussion about structure, discourse flow, and rhetorical strategies in modern commentaries, then the Lexham Discourse Handbooks are for you.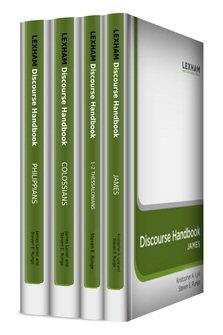 Preorder the Lexham Discourse Handbooks today!
Get this month's free book
In Between the Cross and the Throne, Matthew Emerson brings one of the least-understood books in the Bible to life for the modern Christian: Revelation.