Get a crash course on evangelism
With Dr. Bobby Conway's course Introducing Evangelism, you'll gain the confidence to share and defend your faith as you examine the biblical definitions for "evangelism" and "apologetics" so you can live out the Great Commission in your home, workplace, and community. And you'll acquire useful and proven strategies to overcome the most common challenges, such as facing your fears and answering hard questions. Whether you desire to do more personal evangelism and apologetics, or whether you desire to equip others for the ministry, Dr. Conway provides the instruction you need.
Get Introducing Evangelism now.
Learn to interpret the Bible with Dr. Heiser
The Bible is a book written for us but not to us, so accurate interpretation needs to be informed by the ancient worldview of the biblical writers, their historical circumstances, cultural and religious beliefs of their day, literary genre, and the original languages of the Bible. Learn the necessary tools for accurate and meaningful biblical interpretation.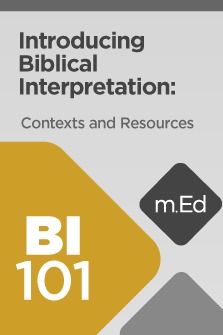 Get Introducing Biblical Interpretation today.
Explore 20 years of sermons
Logos is proud to re-introduce the expanded Tim Keller Sermon Archive. It contains transcripts of over 1,300 sermons taught by Timothy Keller—author, speaker, and senior pastor of Redeemer Presbyterian Church in New York City. Now available in the most advanced digital format, the transcripts spring to life, ready for search and study. You can see the full list of Tim Keller's sermons here.
Get the Tim Keller Sermon Archive (1989–2013).
Get key Yale resources for up to 75% off—including the Anchor Yale Bible commentary series!
During this month only, resources from Yale are up to 75% off! Throughout the month of October, you can save on commentaries and other works that will enhance your Bible study and help to deepen your relationship with God.