Learn about Christian counseling from Tim Clinton
Tim Clinton, Ed. D. is president of the American Association of Christian Counselors (AACC)—the largest and most diverse Christian counseling association in the world. He is professor of counseling and pastoral care, and executive director of the center for counseling and family studies at Liberty University. Logos Bible Software let's you tap into Dr. Clinton's insight with the Quick-Reference Counseling Collection.
The Quick-Reference Counseling Collection discusses a wide variety of counseling issues, including marriage, relationships, sexuality, finances, parenting, and more. Whether you're a pastor, counselor, parent, or friend, you'll find the information you need to help positively guide others through the issues they're facing. Each volume covers 40 topics relating to the issue at hand and follows a helpful eight-part outline that identifies typical symptoms and patterns, provides definitions and key thoughts, and includes questions, directions for the conversation, action steps, biblical insights, prayer starters, and recommended resources.
Get The Quick-Reference Counseling Collection today.
Study biblical soul care with a master counselor
For those who have a passion for helping others and who would appreciate the foundation of Bible-based counseling training, Dr. Timothy Clinton offers PD171 Biblical Soul Care. PD171 presents the intersection of psychology and faith in the practice of counseling and explores the increasing need for a response to the stresses of twenty-first century American life. The course draws on numerous biblical passages to augment psychology's explanations and treatment suggestions for a distressed person's needs and is replete with examples from Dr. Clinton's experience as a practicing counselor. This course will help you become better prepared for the counseling demands in your ministry and life in general.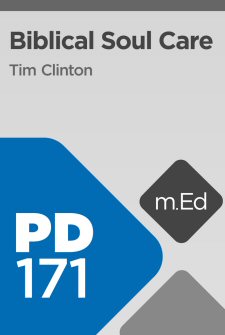 Get Biblical Soul Care with Dr. Tim Clinton.