See how genre affects Scripture
The Bible is a complex mix of literary genres that spans several centuries. Understanding how to properly read and interpret it is challenging. In these courses some of the brightest minds in biblical interpretation will teach you their methods. You'll learn how to understand scripture in its original historical and literary contexts and grasp the messages the Old Testament and New Testament authors intended.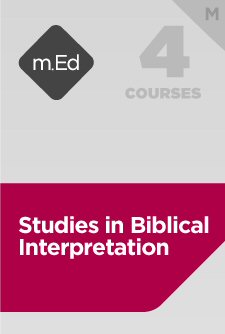 Preorder Interpreting New Testament Genres with Dr. William Klein in the Studies in Biblical Interpretation Bundle!
Get more familiar with biblical interpretation
Although accurate Bible interpretation is a challenging task, William W. Klein, Craig L. Blomberg, and Robert L. Hubbard have combined years of expertise and devotion to Scripture to provide a truly unique volume that sets forth concise, logical, practical guidelines for discovering the truth in God's Word.
"Interpretation is neither an art nor a science; it is both a science and an art." —Introduction to Biblical Interpretation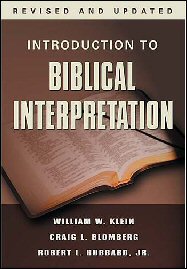 Get Introduction to Biblical Interpretation today.
Learn the value of Greek discourse devices
The Lexham Discourse Handbook series guides readers through the Greek text, integrating insights from the Lexham Discourse Greek New Testament and Discourse Grammar of the Greek New Testament. These volumes show how various discourse devices each contribute to the overall flow and structure of the books by providing a unifying analysis of each text.
Dr. Steve Runge's approach complements traditional approaches by helping readers understand the exegetical implications of the writer's choices. The handbooks offer sustained commentary on the text, but do not engage issues like background, setting, and audience that preoccupy traditional commentaries. Instead, Runge applies his years of research in discourse grammar to a running exegesis of the Greek. If you have been disappointed by the lack of discussion about structure, discourse flow, and rhetorical strategies in modern commentaries, then the Lexham Discourse Handbooks are for you.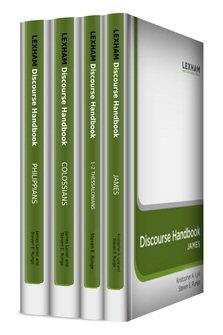 Preorder the Lexham Discourse Handbooks today!
Access a scholarly tool for exposition of Scripture.
The Gold Medallion Award–winning Expositor's Bible Commentary is a major contribution to the study and understanding of the Scriptures. Providing pastors and Bible students with a comprehensive and scholarly tool for the exposition of the Scriptures and the teaching and proclamation of their message, this 12-volume reference work has become a staple of seminary and college libraries and pastors' studies worldwide.
Add the Expositor's Bible Commentary to your library.