Dr. Craig Blomberg discusses how understanding the historical nature of the Gospels informs the inerrancy debate (0:10), and Dr. Steve Runge gives a lesson on honor from Ephesians (3:15).
Get the Craig L. Blomberg Collection
New Testament specialist Craig Blomberg presents a sturdy shelf of works from Baker Academic and Brazos Press. In this collection, you'll get a variety of theological, exegetical, and hermeneutical resources that center on the Bible's timeless sufficiency and divine inspiration. Get the most out of your New Testament studies, whether you preach the New Testament's message for conversion or teach the New Testament for the next generation of disciples.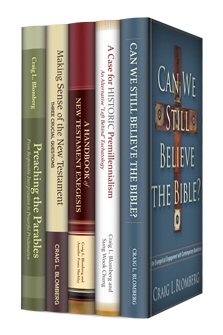 Add the Baker Academic Craig L. Blomberg Collection to your library.

Master discourse analysis with Dr. Runge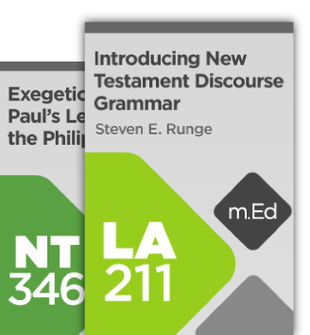 In his discourse analysis courses, Dr. Runge explains linguistic devices—the building blocks of discourse analysis—and how understanding these devices can help us better understand the New Testament writers' intentions. You'll learn how to recognize these devices in the text, what they contribute to your exegesis, and how they can sharpen your exposition of the text. You'll then put these methods into practice with Dr. Runge's help as he guides you through Philippians.
Get Dr. Runge's Mobile Ed courses.
Get this month's free ebook
The Gospel of Mark (The New International Greek Testament Commentary | NIGTC)
Drawing on many years of Marcan studies, world-class scholar R. T. France has produced an exegetical commentary on the Greek text of Mark that does what the best of recent Greek commentaries have done but in France's own inimitable, reader-friendly way.
Grab an additional book for $4.99
The Epistles to Colossians and Philemon (The New International Greek Testament Commentary | NIGTC)
"Retaining his close attention to detail and immense sweep of the literature, Professor Dunn provides a full discussion of critical and historical issues in the introductions to the two letters and his verse by verse comment. Useful for the minister as well as the scholar." – Expository Times Review
Add a third book for only $9.99
The First Epistle to the Corinthians (The New International Greek Testament Commentary | NIGTC)
One of the world's most respected Christian theologians, Anthony Thiselton provides in-depth discussion of the language of 1 Corinthians, presents his own careful translation of the Greek, traces the main issues of interpretation from the church fathers to the present, and highlights topics of theological, ethical, and sociohistorical interest today, including ethics and "rights," marriage, divorce and remarriage, "headship," gender, prophecy, and many others.
Get all three books for only $15!