Dr. Craig Blomberg discusses how understanding the historical nature of the Gospels informs the inerrancy debate (0:10), and Dr. Steve Runge gives a lesson on honor from Ephesians (3:15).
Get the Craig L. Blomberg Collection
New Testament specialist Craig Blomberg presents a sturdy shelf of works from Baker Academic and Brazos Press. In this collection, you'll get a variety of theological, exegetical, and hermeneutical resources that center on the Bible's timeless sufficiency and divine inspiration. Get the most out of your New Testament studies, whether you preach the New Testament's message for conversion or teach the New Testament for the next generation of disciples.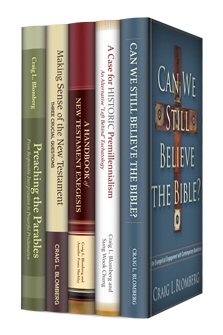 Add the Baker Academic Craig L. Blomberg Collection to your library.

Master discourse analysis with Dr. Runge
In his discourse analysis courses, Dr. Runge explains linguistic devices—the building blocks of discourse analysis—and how understanding these devices can help us better understand the New Testament writers' intentions. You'll learn how to recognize these devices in the text, what they contribute to your exegesis, and how they can sharpen your exposition of the text. You'll then put these methods into practice with Dr. Runge's help as he guides you through Philippians.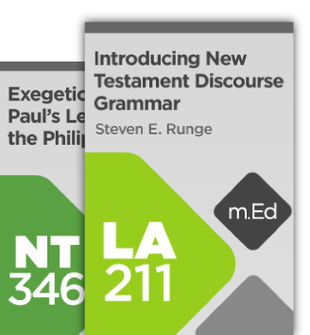 Get over 1,900 sermons in one resource.
Free this month: Paul, Apostle of God's Glory in Christ

July's free book is Paul, Apostle of God's Glory in Christ by Thomas R. Schreiner.
Like most writers of a Pauline theology, Schreiner discerns something at the heart and soul of Paul's theology: ". . . the supremacy of God in and through the Lord Jesus Christ." Schreiner has stitched this theme into the book's fabric, and the result is a deeply spiritual, robust Pauline theology.
Get your free copy of Paul, Apostle of God's Glory in Christ now.
Add two more books for just $5 total.
Go deeper in your study of Paul's theology with Jesus, Paul and the People of God: A Theological Dialogue with N. T. Wright, only $1.99. The book covers two of Wright's theological specialties: modern scholarship surrounding Jesus and Paul.
Understand the New Testament better with David DeSilva's, Honor, Patronage, Kinship and Purity (now only $2.99). Explore how concepts like honor and shame shaped the New Testament world—and thereby shaped Christianity itself. This book is praised by scholars like Craig Keener, Ben Witherington III, and many more.
All together, you can save over $50 on these books, getting all three for just $5.