Start Learning Biblical Hebrew with Dr. Futato
With this bundle, you'll gain insight into Hebrew grammar, and learn all of the sounds and symbols of the alphabet—both the consonants and the vowels. Explore the forms of the noun, the adjective, and the verb in all its conjugations of the basic patterns. Discover how these words work together to form phrases, clauses, and sentences. As you deepen your knowledge of how Hebrew works, you will practice reading Hebrew text from the Hebrew Bible.

Get the Introduction to Biblical Hebrew bundle with Dr. Mark Futato today.
Learn from Dr. Carl Sanders
Dr. Carl Sanders is well liked by his students for his down-to-earth presentation of Bible doctrine. Students quickly learn that he enjoys talking about theology and has a quick wit. Among his strengths as a lecturer are his ability to distill information to essential elements, as well as his good-natured way of fairly explaining differences in theological positions. Dr. Sanders has a keen interest in urban ministry and has served for many years in racially diverse urban congregations. His interest in local-church experience helps him practice theology in ways that reflect the diversity present in the body of Christ. He strives to make theology interesting and practical.
If you appreciated Dr. Sanders' insight into evangelicalism, you should check out his Mobile Ed courses!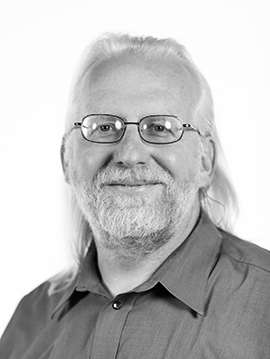 Browse all Mobile Ed courses taught by Carl Sanders.
Get into the Word with the Faithlife Study Bible
The Faithlife Study Bible invites you to understand the Bible more fully—to feed your curiosity about God and His work in the world. It is designed for digital with rich layers of notes and innovative graphics, making it the most advanced digital study Bible. The balance of striking graphics, comprehensive study features, and intriguing insights from multiple points of view will keep you curious as you explore the treasures of God's Word.

Get the Faithlife Study Bible for free!
Save up to 80% on Logos resources
Get limited-time, low prices on Logos 7, books from Baker Publishing, and other top biblical resources.