Dig into the works of Dr. Craig Bartholomew
Craig G. Bartholomew is the H. Evan Runner Professor of Philosophy at Redeemer University College in Ancaster, Ontario, and the principal of the Paideia Centre for Public Theology. He is the author of Ecclesiastes in the Baker Commentary on the Old Testament Wisdom and Psalms series, coauthor with Michael W. Goheen of Living at the Crossroads, and author of several Lexham Press books including book studies on Job and Luke as well as a practical guide to contextual preaching.
Explore all the works of Dr. Craig Bartholomew.
Keep Your Greek with Con Campbell
Seminarians spend countless hours mastering biblical languages and learning how the knowledge of them illuminates the reading, understanding, and application of Scripture. But while excellent language acquisition resources abound, few really teach students how to maintain their use of Greek for the long term. Consequently, pastors and other former Greek students find that under the pressures of work, ministry, preaching, and life, their hard-earned Greek skills begins to disappear.
Constantine Campbell has been counseling one-time Greek students for years, teaching them how to keep their language facility for the benefit of those to whom they minister and teach. He shows how following the right principles makes it possible for many to retain—and in some cases regain—their Greek language skills.
Pastors will find Keep Your Greek an encouraging and practical guide to strengthening their Greek abilities so that they can make linguistic insights a regular part of their study and teaching. Current students will learn how to build skills that will serve them well once they complete their formal language instruction.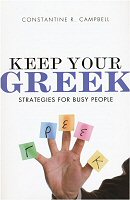 Get Keep Your Greek: Strategies for Busy People today.
Study wherever and whenever you want
The free Logos Bible app for Android and iOs is designed and built for deeper Bible study, so you can read, listen, study, and share your insights from your mobile device.  The Logos Bible app gives you access to incredible tools and Bible study content right from your phone or tablet so that you can learn and grow wherever you are.
You'll get access to many of your favorites Bible translations, including ESV, NASB, NLT, and many more, plus tools to create custom reading plans and compare translations to deepen your understanding of God's word. When you create a Faithlife account and sign in to the app, you'll also get access to a carefully curated collection of books and Bible study resources. Your digital library includes the Lexham Bible Dictionary, Faithlife Study Bible, and well-known devotionals and commentaries. And if you own a Logos Base Package, your theological library is synced across all of your devices.
Get the Logos Bible App for Android or iOs today.
Get a free Logos book!
This month, we're giving away Romans from the Yale Anchor Bible commentary series. Plus, you can get Habakkuk for $1.99 and Galatians for $2.99.