Dr. Michael Licona talks about the struggles with doubting your faith (:10), and Todd Bishop offers a Logos Pro tip on using the LXX Translation Ring (4:10).
Study apologetics with Dr. Licona and others
Discover various approaches to sharing your faith with nonbelievers. Explore and analyze current physicalist/naturalist views on human nature, creativity, and consciousness. Observe a futuristic debate between Christianity's St. Paul and Islam's Muhammad as they address the validity of their religious doctrines, cite primary sources, and argue over one of the biggest defining aspects of their religions: the validity of Jesus' resurrection. Learn about present strategies to defend the belief in moral absolutes while recognizing moral relativism's logical inconsistencies, growth in the past decades, and political and social influences.
In a solid, scriptural, and non-technical way, the Baker Apologetics Collection brings beginning and experienced apologist insight on today's philosophical issues, while firmly defending the Christian faith.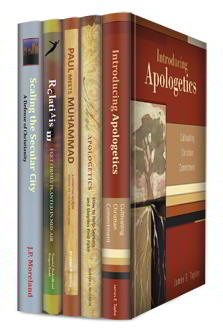 Add the Baker Apologetics Collection to your library today!
January's free book

The Christian Standard Bible (CSB) is a highly trustworthy, faithful translation that is proven to be the optimal blend of accuracy and readability. It's as literal to the original as possible without sacrificing clarity. The CSB is poised to become the translation that pastors rely on and Bible readers turn to again and again to read and to share with others.
More than 100 scholars from 17 denominations translated directly from the best available Hebrew, Greek and Aramaic source texts into English. Its source texts are the standard used by scholars and seminaries today.