See how genre affects Scripture
The Bible is a complex mix of literary genres that spans several centuries. Understanding how to properly read and interpret it is challenging. Develop a new level of competency in interpreting the New Testament with Dr. William Klein's guidance and insight on New Testament genres. Learn how to interpret the different genres found in the New Testament epistles. Distinguish which events in Acts are meant to be descriptive, describing what happened, and which are meant to be prescriptive, instructing on how to live. Discover how the book of Revelation combines three genres, and how this affects its interpretation.

This Mobile Ed course is on sale for 30% off for Mobile Ed Subscribers!
All Mobile Ed subscribers have access to a 30% discount on the course BI206, Interpreting New Testament Genres. To unlock this limited-time discount, get a valuable Mobile Ed Subscription! This subscription gives you access to over 50 hours of Mobile Ed courses taught by top scholars. You can take these courses at your own pace anytime, anywhere, and on tons of devices. The content changes quarterly, and was just refreshed on July 1st! Sign up today to begin learning about a variety of topics that will help to deepen and strengthen your walk with God.
Start studying biblical genres with Dr. William Klein with the Interpreting New Testament Genres course, and subscribe to Mobile Ed to save 30%!
Get more familiar with biblical interpretation
Although accurate Bible interpretation is a challenging task, William W. Klein, Craig L. Blomberg, and Robert L. Hubbard have combined years of expertise and devotion to Scripture to provide a truly unique volume that sets forth concise, logical, practical guidelines for discovering the truth in God's Word.
"Interpretation is neither an art nor a science; it is both a science and an art." —Introduction to Biblical Interpretation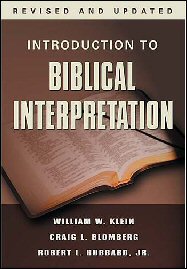 Get Introduction to Biblical Interpretation today.
Bonus: Learn more about resources that can help you to interpret Greek texts better.
Learn more about Greek and Hebrew with powerful Logos Bible software
This free version of Logos Bible Software puts insights from across all of Scripture—and a collection of key biblical resources—right at your fingertips. With Logos 7 Basic, you'll do basic Bible study tasks and see for yourself how Logos can help you discover, understand, and share more of the biblical insights you crave. Customize a Bible reading plan, take notes and highlight, consult devotionals and commentaries, and more—all with the help of intuitive, interactive tools.
Start using Logos for free today! Get Logos 7 Basic.
Access a scholarly tool for exposition of Scripture.
The Gold Medallion Award–winning Expositor's Bible Commentary is a major contribution to the study and understanding of the Scriptures. Providing pastors and Bible students with a comprehensive and scholarly tool for the exposition of the Scriptures and the teaching and proclamation of their message, this 12-volume reference work has become a staple of seminary and college libraries and pastors' studies worldwide.
Add the Expositor's Bible Commentary to your library.
Get key resources for 30% off!
During this month only, resources from Eerdmans Publishing are 30% off! Throughout the month of July, you can save on commentaries and other works that can enhance your Bible study and help to deepen your relationship with God.


Add sale items to your library now!