Learn to read the New Testament with Dr. Naselli
Introducing the New Testament, abridged edition, is an established major textbook that brings the best of New Testament scholarship to the church and makes it accessible to the average reader.
This book focuses on historical questions dealing with authorship, date, sources, purpose, and destination of the New Testament books. By focusing on the essentials, the authors ensure that each book is accurately understood within its historical settings. For each New Testament document, the authors also provide a summary of that book's content and discuss the book's theological contribution to the overall canon.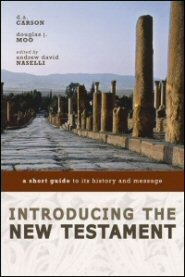 Get Introducing the New Testament today.
Learn how language affects Scripture with Dr. Runge
Our understanding of the Greek New Testament is based almost entirely on English translations, but how would our understanding of the Greek text change if we read it for what it is—as Greek? With the Lexham Discourse Greek New Testament Datasets, we can now get behind the words of the New Testament writers and discover the particular linguistic tasks that inform translation and interpretation. The Lexham Discourse Greek New Testament Datasets identifies discourse markers and performs complex discourse analysis of the entire New Testament quickly, easily, and accurately, which makes it one of the most advanced tools for studying the Greek text of the New Testament.
Get Lexham Discourse Greek New Testament Bundle today!
Enrich your study of God's word with the Lexham Bible Guides
The Lexham Bible Guides are complete Bible guides re-imagined for the digital age: a hybrid between a handbook-type commentary and an annotated bibliography, built on technological resources available only in Logos.
These guides are written from the ground up to take full advantage of Logos' platform. The interconnectivity of the Lexham Bible Guides within the Logos library provides you with relevant, curated content at a click, produced by professional researchers. There's no need to flip through pages, pore over commentaries, or search through dictionaries. You get access to the best content available—instantly.
With 15 individual volumes and two great collections, you can enhance your Logos library with titles like:
Browse the entire collection of Lexham Bible Guides.
Get key Yale resources for up to 75% off—including the Anchor Yale Bible!
During October only, resources from Yale are up to 75% off! Throughout the month, you can save on commentaries and other works that will enhance your Bible study and help to deepen your relationship with God.