Study the Old Testament with Dr. Baker
Discover the beauty of Old Testament poetry and prophecy from one of the world's foremost Hebrew scholars—Dr. David W. Baker. In OT102, Dr. Baker describes the ancient literary techniques used in poetry and prophecy so you gain more appreciation for these often overlooked portions of the Old Testament. He distills the message, theme, and structure of each book in poetic and prophetic genres into concentrated video lecture segments. This is the ideal sequel to Dr. Mark Futato's OT101 course. In OT232, Dr. Baker builds upon his survey course to cover four of the Old Testament Minor Prophets—the books of Amos, Obadiah, Joel, and Malachi—in even greater detail. He also provides insightful commentary about how the message of each book relates to contemporary issues.
These courses are the result of more than 30 years of work in Old Testament studies, and have been designed in collaboration with Dr. Baker to be especially helpful for those who desire more insight into Old Testament poetry and prophecy.
Get the David W. Baker Old Testament Bundle today.
Read James in high definition
Dr. Steve Runge provides discourse-based commentary on James, featuring custom-designed slides to use in your teaching. Talented designers tailored these infographics to illustrate the key ideas of each passage, and you can export them for use in your own sermons or Bible studies. Study James like never before with Runge's High Definition Commentary: James.
Get High Definition Commentary: James today!
Maximize Logos 7 features with this library expansion
If you want the most bang for your buck and the most interconnected digital library available, this is the collection for you. Every single volume has been specially tagged and developed for enhanced functionality in the latest features of Logos 7. When studying a passage, you'll be able to reference:
Original-language grammars' mention of that passage, sorted by area of grammatical study
Systematic theologies that discuss that passage, sorted by denomination and theological sub-discipline
Sermons and homilies from the past 1,600 years which preach from that passage
Parallel passages across the Bible and the ancient religious corpus
Variant texts from ancient manuscripts which offer textual differences on your passage
Ancient parallels, quotations, and allusions across secular Hellenistic, Roman, Jewish, and ancient Near-Eastern writings
And much, much more . . .
This is the ultimate digital Bible-studying experience. You'll have everything you need to take on the Bible as a linguist, anthropologist, historian, textual critic, exegete, theologian, and preacher.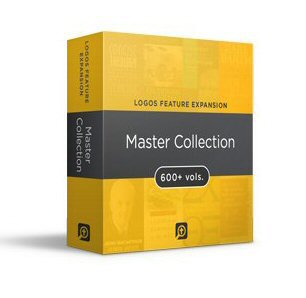 Add Feature Expansion: Master Collection today, or pick the library expansion optimized for the features you use most.