Explore the Gospel of Thomas with Dr. Perrin
Thomas: The Other Gospel tells the story of the gospel from its discovery to its current reception among academics and in more popular circles. It provides a clear, comprehensive, non-technical guide through the scholarly maze of issues surrounding the Coptic text.
N.T. Wright calls it, "A brilliant reconstruction of how the document came to be written, what it meant then, and what it means now."
Get Thomas: The Other Gospel today.
Study the Kingdom of God with Dr. Perrin
Explore the kingdom through the parables of Jesus and learn what the kingdom is, who the kingdom belongs to, and how one lives in the kingdom. Discover that the kingdom is what God does, and that He just might use you in his work. This kingdom is to be characterized by sharing, by working together, by forgiving each other, and by being empowered by the Holy Spirit. Most importantly, it is a kingdom centered on Jesus the Messiah and on worship—and this is just a foretaste of what's going to happen when the kingdom comes in its fullness. Learn all this and more in this Mobile Ed course with Dr. Nicholas Perrin, the speaker in today's video.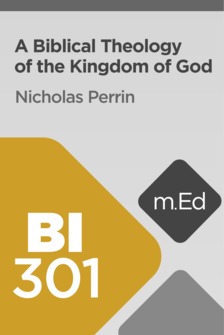 Buy A Biblical Theology of the Kingdom of God with Dr. Perrin.
Get the newest version of the Logos Bible app
The free Logos mobile app puts powerful resources in the palm of your hand, giving you the very best in mobile Bible study. It syncs across all platforms, so you can pick up right where you left off on any other Web-enabled device. Download the free Logos app today, and experience fuller, richer Bible study wherever you go.
Get it for iOS. Get it for Android.
Get any Logos base package 20% off
Take advantage of a massive discount on all Logos 7 base packages and feature sets. And if you're upgrading from a previous base package, get Dynamic Pricing so you don't pay for anything you already have.